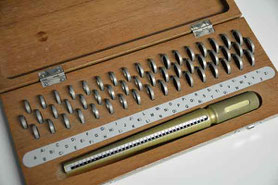 If you don't already know the ring size you require, you are welcome to visit me at a craft event or arrange a time to visit my workshop to determine it.  Alternatively, gauging a ring-size is a service that most high street jewellers will provide free of charge.
UK ring sizes are measured from A-Z and in half sizes.  I can also take International orders so please let me know what country you are ordering from.
Ring Sizing Systems:  Different countries use different ring size systems.
UK, Ireland and Australia, ring sizes are specified using an alphabetical scale, with half sizes.
Europe (excluding Ireland and the UK), ring sizes are specified using a numerical scale, with half sizes.
USA and Canada, ring sizes are specified using a numerical scale, with quarter and half sizes.
The size of your hands can change over the course of the day and can also be affected by temperature (your fingers will be smaller when it's cold and larger when they are hotter).  It might be best to have your finger measured a few times to ensure you order the best size, usually in the afternoon or evening when your fingers are likely to be at their largest.  Remember your hands will be slightly larger in the warmer months and smaller in the colder ones.  Therefore ideally you want a ring to fit snuggly in the warmer months but not so tight as to be uncomfortable or too loose in the cooler months.
Please note that the width of the ring you are measuring is also another factor to consider as this can also make a difference to the size.  Wide rings are usually one size larger than the actual finger size.  If you are not able to visit me then I would suggest trying on rings in the width and size you require.
I hope this information has been of help.  Ultimately, the ring size is your decision, but I hope this has given you a good guide.  If you have any questions, please do not hesitate to get in touch.  Below is some information about possible ways to obtain the correct size for a surprise.
Using and existing ring that fits
If the commission is intended as a surprise for the recipient and you need to find out the ring size, there are a couple of ways to determine this.  If there is a ring that the person already wears on the finger it is intended for, the best way to determine the size it to take it to a local jewellers for them to gauge the size.  Make sure it is a ring that has been recently worn as finger sizes can change over time.
Measuring an existing ring yourself
It is possible to measure the inside diameter of the ring to determine the size, but if you do so, please make sure this is with an accurate tool, like a micrometer.  A ruler will not be sufficient to give you an accurate reading.  Fractions of a millimetre will mean the difference between one size and another.  1mm either way can make a difference of more than two sizes. 
Engagement Ring
If the ring is intended as an engagement ring the intended recipient may not have a ring that is already worn on that finger.  I would recommend that you either ask for the size or see if a close friend or family member would take the person shopping for jewellery and see if they are able to find it out.  Another option, although not full proof, is to get a size for a ring that is worn on the right hand ring finger.  However, in general, the primary hand (the one you write with), usually measures a half size bigger than the other, though this is not always the case. 
It is always best to make the ring to the correct size first, so if you are able to find out the exact size this is ideal.  If required, it may be possible to successfully resize a ring within a couple of sizes.  However, due to the detailed nature of my work some are more difficult than others and there can be issues in either making a ring larger or smaller, especially if set with gemstones.  Therefore it is best to discuss the options on an individual basis and will be quoted for as such.  In most cases, it is far easier to make a ring larger than to make it smaller, as sizing down requires removing a section of the band.  This is not ideal as this involves cutting, reshaping and soldering the band, which can possibly alter the flow of the design or position of a feature (possibly breaking the flow of a tendril).  There is a possibility with settings that the gemstones in the ring can be disrupted and may require being re-set.  There is usually a greater cost associated with making a ring smaller than larger.  To discuss this further, please get in touch.
There is another option if you decide you would rather wait to have the ring made after your proposal.  I can make up a presentation box for you to give to the recipient when you propose.  This consists of a printout of the proposed design on high quality paper, along with information about my work. This is enclosed in one of my large 'Georgina Ettridge' branded presentation boxes.  With this option the recipient will see the thought and effort that you have taken to think about the ring, but you have the peace of mind that the ring size and design can be checked before it is made.  
The presentation commission box is £25 but if for instance you wish me to source a gemstone or have anything else included, this is worked out on an individual basis.  Should you proceed with a commission, the cost of the box will be deducted from the total of your commission.  If you are interested in this option, please get in touch to discuss this further. 
---
Chains are available in different lengths including 16" (which is a standard length), 18" & 20", which can be selected during the ordering process.  If you are unsure, please place the order and add to the 'notes' box that this is to be confirmed and this can be discussed after the order has been placed, and charged accordingly.  
Longer chain lengths from 22" to 30" chains are available on request and are quoted for on an individual basis.  Please get in touch via the Contact page to discuss your requirements.
A guide to determining the correct chain length:
Either measure a favourite necklace of a length that you like or if you are unsure about which length you require, use a piece of string with a knot in one end and bring the other end loosely around to where you wish the necklace to sit. (Please remember that the pendant will sit below this line - look at the approximate dimensions of each individual piece).
If the necklace is a gift, if you can measure a chain that the person already wears.  If this is not possible, please note that 16" is the standard length.  If the length you purchase is incorrect I am happy to exchange it, provided the chain is returned unworn in its original condition.
Additional Chains 
If you would like more than one length of chain, extras can be purchased from me.  Please Contact me to discuss your requirements.
---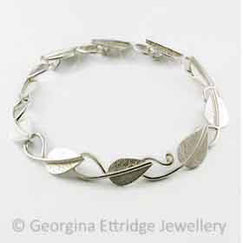 Bracelet Sizing
If you have a bracelet that already fits you, measure the length of bracelet and make a note of it on the order.  From this I can make it to your exact size.
Alternatively, measure your wrist and then add 2cm as this will give you the length required.  A standard length bracelet is 19cm to 20cm (7.5"-8").
Bangle Sizing
If you have a bangle that already fits you, measure the inside diameter and make a note of it on the order.  From this I can make it to your exact size.
Measuring your hand
To measure the correct fit, hold your hand outstretched as if you were putting on a bangle and measure the widest part of your hand that the bracelet will slide over.  The average size is around 19cm-20cm (7.5" - 8.0") depending on how big or small your hand is.
---
Earrings on hook fittings instead of posts?
All earrings, unless otherwise stated, have a 'post' fitting. If you prefer hooks, many of my designs can be altered to accommodate this fitting.  Please contact me stating the piece you have in mind.  There is normally no extra charge for this service.
Can earrings be made into clip-ons? 
A lot of my designs can accommodate clip-on or screw back fixing earrings.  Please contact me with the design you have in mind and I will be able to advise if it is suitable for the style and the additional cost.